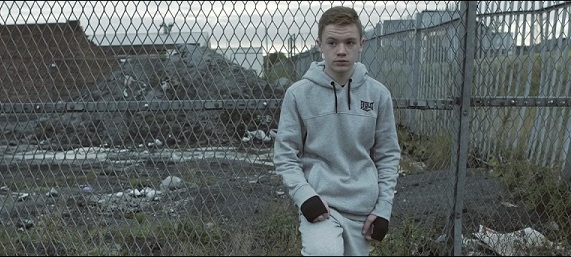 Saint PHNX Release Video for 'King'
Watch Here
"With an infectious energy and a lot more to say than their indie-rock peers, Alan and Stevie have appeared on the scene with riffs and beats to rival the most famed rock bands." – 1883 Magazine
"Kasabian meeting Tame Impala in a Glasgow pub carpark for a big old dust up" – Phil Taggart
"Scottish brothers Stevie & Alan Jukes have hit the ground running" – The Sun
Break
Today, sees hotly tipped duo Saint PHNX release the video for their colossal single 'King'. Shot in the East End of the band's hometown of Glasgow, the gritty visual sees its young protagonist, a boxer, training in a Rocky-esque montage before stepping into the ring at the infamous Glasgow Phoenix Boxing Gym. 'King', which was premiered by Radio 1's Greg James, has already passed a quarter of a million streams on Spotify in only a few weeks. The track started generating a buzz even before its official release when it was used for the end credits of ITV's Europa League Final coverage & Sky's F1 highlights back in May.
Discussing the inspiration behind the new video, the brothers comment; "We wanted to have a theme that ran in parallel with what the song is about personally. Boxing was the perfect fit. It's about how the world can seem a lonely place with all elements against you but through raw persistence, focus, determination and belief then you can achieve greatness. The video was directed by fellow Scott Drew John Barnes, a director who encompasses the rarest of gifts: an ability to make unique and engaging films telling a story many of us can relate to."
Saint PHNX, consisting of brothers Stevie & Al Jukes, hail from Wishaw, an industrial town on the outskirts of Glasgow, and have been making waves ever since emerging during the summer with their debut single 'Reload' – a 3-minute dose of anthemic hooks and stadium-ready choruses that perfectly showcases their innate skill for engaging songwriting and signals their vast ambition for the project. The band made their highly anticipated live debut at a sold out show at Glasgow's Nice'N'Sleazy in July and, in support of 'King', are set to play at the infamous King Tuts Wah Wah Hut at the end of December.
2017 looks set to be a huge year for the exciting duo having already been announced for next year's Great Escape Festival in Brighton, after playing their 'First Fifty' showcase at Shoreditch's Old Blue Last at the tail end of November, not to mention a wealth of new material on the horizon too.
Nic Bestley | Online PR | Purple Entertainment | 27 - 29 Glasshouse St, London, W1B 5DF